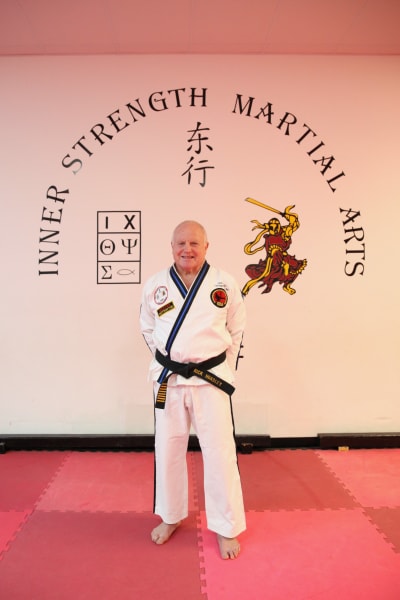 Master Rick Hoadley
Master Instructor 8th Degree Black Belt in the martial art of Taekwondo, began his career in sports as co-captain of his high school football and wrestling teams. He then went on to wrestle and play football at Western Michigan University. He began training in Taekwondo in 1972.
Master Hoadley began training with Master Robert Allemier and Master Haeng Ung Lee, founder of the American Taekwondo Association. Master Lee was an instructor in the Headquarters Intelligence Division of Central Intelligence Agency during the Korean War, and one of the first Korean nationals to bring Taekwondo to the United States. Master Haeng Ung Lee was one of the finest instructors to be certified by the legendary Chungdo Kwan, considered by many historians to be the finest academy teaching advanced foot techniques in the world.
After 15 years of training under Master Lee, Master Hoadley became one of the Founders of the United States Taekwondo Alliance, and later the International Taekwondo Alliance, serving on the board of directors for 20 years.
In 1994, Master Hoadley began training under Sensei Berl Parsons in the Weeping Willow Style of Jujutsu. Sensei Parsons was a United States Marine stationed in Tokyo, Japan, in 1957 when he was introduced Sensei Tensu Yammato, 10th Degree Red Belt in the 4,000-year-old Weeping Style of Jujutsu. Sensei Parsons is an 8th Degree Black Belt in the Weeping Willow Style and a retired military veteran, serving almost 20 years in Elite Military Operations for the Central Intelligence Agency, including two tours of Viet Nam.
Master Hoadley is a career Martial Arts Instructor possessing over 45 years of professional experience. He has copyrighted a teaching manual that has pioneered the relationship of Taekwondo to school children's academic performance and was involved with the conception and completion of the research project conducted by Professor William C. Martin, Ph.D. in Education at the University of West Florida which documented improvement in self-esteem, grades, and social-competence by students involved in the Taekwondo program.
Master Hoadley has trained professional instructors who currently own and operate Taekwondo schools in Greensborough, Winston-Salem, Charlotte Raleigh, and High Pointe, North Carolina, Gulfport, Jackson, and Orange Grove, Mississippi, and Mobile, Alabama.
Master Hoadley is a Certified Personal Fitness Trainer and offers instruction in weight training as well as martial arts training. Master Hoadley co-authored "The Diet" with IFBB Professional Mike Horn.